SANDRINE BONNAIRE
Actress (Olga Makarova)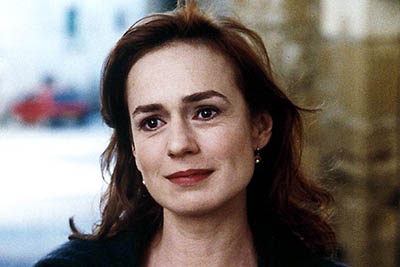 The internationally famous French actress Sandrine Bonnaire began her career at the age of fifteen when she starred in the Maurice Pialat's film A NOS AMOURS (TO OUR LOVES). For this film she won her 1st Cesar Award and the entry into the company of France's top film artists. Ms. Bonnaire made two more films with Pialat, both opposite Gerard Depardieu, the rough crime thriller POLICE (1984), and the controversial UNDER SATAN'S SUN (1987) that won the Golden Palm at Cannes Film Festival.

One of Ms. Bonnaire's most extraordinary performances came in 1985 when she starred in Agnes Varda's VAGABOND as an enigmatic drifter, who confronted by the strife of everyday life, fails both physically and morally. For this part she won her 2nd Cesar and Los Angeles Film Critics Association Award.

Ms. Bonnaire's other remarkable performances include Alice in MONSIEUR HIRE, Patrice Leconte's superb adaptation of a Geoges Simenon story (for her part, Sandrine Bonnaire won the Best Foreign Actress Sant Jordi Award and was nominated for Cesar); Martine Rambert in THE PLAGUE, an adaptation of the Camus novel, an international co-production in which Ms. Bonnaire co-starred with William Hurt; and Joan of Arc in Jacques Rivette's two part film JOAN THE MAID for which Ms. Bonnaire received another Cesar nomination.

Yet another Cesar nomination and the Best Actress Award from Venice Film Festival came in 1995-1996, for starring in the acclaimed Claude Chabrol's film LA CEREMONIE (A JUDGEMENT IN STONE).

In 1999 Sandrine Bonnaire took the lead role in the international co-production EAST-WEST, opposite the Russian film star Oleg Menshikov. The film was nominated for Oscar as the Best Foreign Film, and Ms. Bonnaire received her 5th Cesar Nomination. In 2001 Sandrine Bonnaire won the Best Actress Award at Cabourg Romantic Film Festival for the leading part in Philippe Lioret's MADEMOISELLE.

Currently, Ms. Bonnaire is attached to several high-profile projects including LES HERBES FOLLES to be directed by the legendary French filmmaker Alain Resnais.
ZHENYA KIPERMAN
Writer/Director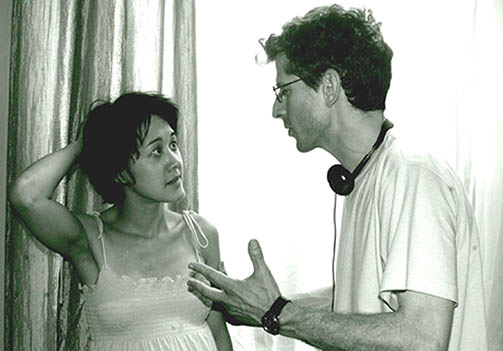 Producer
Zhenya Kiperman is an award-winning filmmaker, author and film professor. Mr. Kiperman came to America from St. Petersburg, Russia, in 1989. A Columbia University Film School graduate, he wrote, directed and co-produced I WILL AVENGE YOU, IAGO! (www.iagofilms.com) - a feature comedy starring Giancarlo Esposito, Larry Pine and Keith Nobbs. The film won 7 awards at international film festivals around the world and was acquired by Panorama
Entertainment for distribution.

Mr. Kiperman has also written, directed, produced and appeared in several documentaries and short films. He has written several feature scripts, including COME BACK, MR. PRESIDENT! and SISTERS, COUSINS AND MAFIOSI. In 1994, Mr. Kiperman published a book of prose, poetry and criticism, A DORMITORY.

Mr. Kiperman is the founder, producer and host of the successful "Golden Age of Cinema" film festival. As a part of the festival, he wrote, directed, produced and hosted eleven documentaries. One of these documentaries, about making Tom DiCillo's LIVING IN OBLIVION, appeared as a special feature on the dvd of this film.

Mr. Kiperman has taught at NYU, New School, Fordham and St.John's Universities. Recently, he joined the Film Department of Drexel University.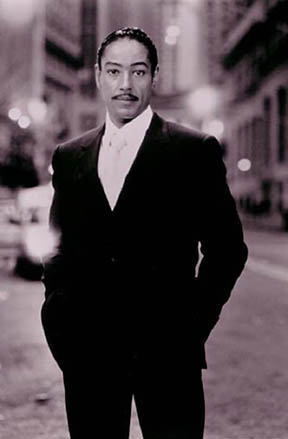 GIANCARLO ESPOSITO
Producer

Giancarlo Esposito is one of the most beloved and dynamic New York based character actors who has appeared in over 100 feature and television films, including such classics as Jim Jarmusch's NIGHT ON EARTH, Paul Auster's and Wayne Wang's SMOKE, and Spike Lee's DO THE RIGHT THING.
Recently he co-produced and directed GOSPEL HILL starring Angela Bassett, Danny Glover and Julia Stiles.

Mr. Esposito has also appeared in Michael Mann's ALI, Abel Ferrara's CALIFORNIA and KING OF NEW YORK, Forest Whitaker's WAITING TO EXHALE, Leon Ichaso's PINERO, Henry Selick's MONKEYBONE, Paul Auster and Wayne Wang's BLUE IN THE FACE, Brian Singer's THE USUAL SUSPECTS, Boaz Yakin's FRESH, Spike Lee's MALCOLM X, SCHOOL DAZE and MO' BETTER BLUES, Tim Robbin's BOB ROBERTS, Francis Ford Coppola's THE COTTON CLUB, Harold Becker's TAPS, Tony Spiridakis' NOISE, Jim Hershleder's ASH TUESDAY, Rajko Grlic's JOSEPHINE, Daniel Pyne's WHERE'S MARLOWE, Clive Feury's BIG CITY BLUES, Charles Cirgenski's STARDUST, Danny Cannon's PHOENIX, Robert Benton's TWILIGHT, Alan Madison's TROUBLE ON THE CORNER, Steve Oedekerk's NOTHING TO LOSE, Paul Bernard's LOOSE WOMEN, Bill Parker's KLASH, Joe Brewster's THE KEEPER, and Simon Wincer's HARLEY DAVIDSON AND THE MARLBORO MAN.

His television credits include THE STREET, HOMICIDE, SIMPLE JUSTICE, THIRST, NAKED CITY: JUSTICE WITH A BULLET, FIVE DESPERATE HOURS, LAW & ORDER, THIRD WATCH, THE PRACTICE, STRONG MEDICINE, TOUCHED BY AN ANGEL, LIVING SINGLE, NYPD BLUE, THE DIVISION, NEW YORK UNDERCOVER and CHICAGO HOPE.

Recently Mr. Esposito co-produced and directed GOSPEL HILL starring Angela Bassett, Danny Glover and Julia Stiles. He has currently appeared on Broadway in the very successful revival of Tennessee Williams' CAT ON A HOT TIN ROOF.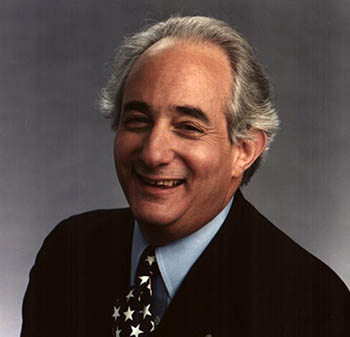 BOB BRASLER
Associate Producer

Bob Brasler is a successful and influential Philadelphia's businessman specializing in Industrial Real Estate and non profit work. He is the founding president of the National Constitution Center in Independence National Park. Mr. Brasler served as Chairman of the Dickinson Board of Advisors and as a Trustee of Dickinson College from 1981 to 2001 and is currently an Emeritus Trustee. In 2007 Bob was selected as one of the 25 most influential alumni of Dickinson.

Mr. Brasler's business specializes in industrial development and brokerage of major industrial facilities throughout North America, as well as Europe and Japan. His most recent completed development is the "Butterfly Project" a complete transformation of a 1.5 million square foot, 126 acres, former Caterpillar Manufacturing Plant in York, Pennsylvania into a mixed use distribution, manufacturing, office and retail center.

Bob was a co-chair of a successful ten year effort to build a new $12 million Arthur Ashe Youth Tennis and Education Center in Fairmount Park, a program that benefits over ten thousand children in Greater Philadelphia.

But it is the launching of the National Constitution Center (www.constitutioncenter.org) that will define his legacy. Mr. Brasler raised initial capital, established a site and concept for the museum, and created the board of directors that included the living former United States Presidents and other national figures. The Congressionally authorized, non-partisan, non-profit National Constitution Center opened to rave reviews on July 4, 2003 and has hosted over four million visitors in its first four years of operations.

Mr. Brasler backed several Broadway shows including THE KING AND I with Yul Brenner, and was one of the investors in the very successful film UNMARRIED WOMAN with Jill Clayburgh.

In addition to his activities at Dickinson College and the Arthur Ashe Youth Tennis and Education, Bob and his wife Sibby have served on numerous non-profit boards and volunteer committees. Sibby was a trustee of Drexel University for over 25 years and has led numerous committees of the Philadelphia Orchestra, while running an event planning business, which among other affairs has coordinated the AAYTE Annual Benefit. This event, considered for many years to be one of Philadelphia's most successful, has under her management raised over $10 million during her 15 years of service.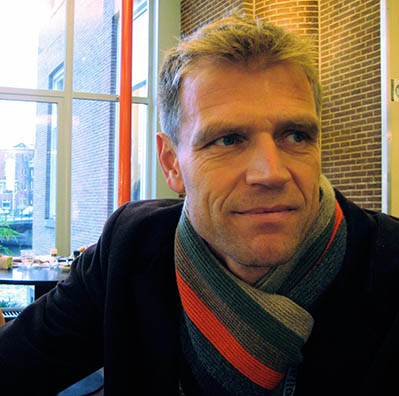 WOLFGANG HELD
Director of Photography

Wolfgang Held is one of the most respected cinematographers in the New York independent film arena, with over 35 feature films and documentaries shot on film and digital formats. His feature credits include Zhenya Kiperman's I WILL AVENGE YOU, IAGO!, Pola Rapaport's BROKEN MEAT (The Best Cinematography Award at Oberhausen International Film Festival, 1990), Bill Roth's FLOATING (The Best Cinematography Award at New England Film Festival, 1999), and the Academy Award Nominated Edet Belzberg's CHILDREN UNDERGROUND (Special Jury Prize at Sundance Film Festival, 2001).

Mr. Held has several successful DV features under his belt, including Gary Winick's SAM THE MAN (starring Gregory Annabella Sciorra and Fisher Stevens) and THE TIC CODE (starring Polly Draper and Hines).

In 1992 Wolfgang Held was given Eastman Kodak Cinematography Award.

Mr. Held's recent credits include Alexandra Shiva's STAGEDOOR, Lorena Luciano and Filippo Piscopo'sURBANSCAPES, Matthew Akers and Jeff Fisher's NIMROD NATION, Mitchell Lichtenstein's TEETH, and Dan Klores and Fisher Stevens's CRAZY LOVE.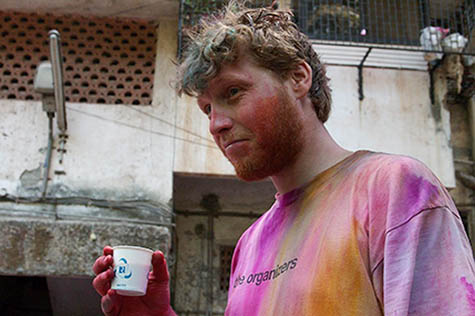 SERGEI KRASIKAU
Producer

Sergei Krasikau served as an Associate Producer on Zhenya Kiperman's I WILL AVENGE YOU, IAGO! and has been involved in production of over 40 films as producer, line producer, production manager, assistant director, cinematographer and editor. The films that Sergei worked on played at over 110 film festivals and won over 20 awards around the world.

Mr. Krasikau's credits include THE SENATOR (35 mm feature, Russia-USA co-production, Line Producer/ Production Manager), BIG RIVER (35 mm feature, Assistant Director), BLACK WOLF HUNT (HD feature for Russian NTV network, Line Producer/Production Manager), MEDIUM HOT (Feature, Associate Producer), DRIVEN (HD feature, Location Manager), BOX (Short, Producer), THE FATHER, UNBLINKING (Short, Producer), AUTUMN NIGHTS (HD short, Producer), THE WHIRLING DERVISH (HD short, Line Producer) among others.

Having lived through the last days of Soviet Empire and the birth of a new dictatorship in Belarus, Sergei is particularly interested in projects focusing on the political and social injustices of the world. He has recently produced two feature-length documentaries: JOGNI: SEX OR CULTURE on ritual prostitution in rural India, and CHILDREN OF AMBEDKAR on untouchables in Mumbai.


NADIA FADEEVA
Costume Design/Make-Up
An award-winning costume designer/make-up artist Nadia Fadeeva has worked on over 40 feature films and dozens of theatrical and television productions in Russia, France, Czech Republic, the United States, Romania, and Vietnam.
Ms. Fadeeva was given the Best Costume Design Award in 1977 for her work on the Russian-Czech film THE PRINCES ON A PEA, and in 1979 for the Russian film A DOG WAS WALKING ON THE PIANO. In 1991, Nadia was nominated for Nika ("the Russian Oscar") for her costume design in the Russian-Czech film WITCHES DUNGEON.

Her credits include CRIME AND PUNISHMENT (film, Russia), DESERT OF ROSES (opera, the USA), THE PRINCES ON A PEA with Innokenti Smoktunovsky (film, Russian-Czech co-production), RUTH with Annie Girardot (film, France), THE VERNON JOHNS STORY with James Earl Jones (HBO film; assistant to costume designer), AH, MY DEAR ANDERSEN! and MIDWESTERN CHUM at Urban Stages Theater, AN ABSOLUTELY HAPPY VILLAGE at Actors Playground Theater, THE INTRUDER at Theatre Kabbal, PENELOPE and FATHERS AND SONS IN OLD ODESSA at American-Russian Theater, to name a few.
Nadia Fadeeva has single-handedly created all costumes and make-up for Zhenya Kiperman's award-winning 30-minute version of I WILL AVENGE YOU, IAGO! (1995), the film with over a dozen of period costume characters, eight of which were played by just two actors. The entire shoot was accomplished in 8 days largely because of Ms. Fadeeva's talent, professionalism and dedication.
Nine years later, Ms. Fadeeva again joined Zhenya Kiperman as a costume designer and make-up artist on the feature version of I WILL AVENGE YOU, IAGO!
Svetlana Vaynblat started her carrier as a classical pianist in New York. After moving to Paris in 1998, she began working in the film industry, first as an assistant sound editor (Roman Polanski's THE PIANIST, Guy Delauriers's BIGUINE), then assisting the renowned French film editor Herve Schneid (Jean-Pierre Jeunet's AMELIE FROM MONTMARTRE, Bille August's GOODBYE BAFANA, among other films).
Svetlana's debut as the chief film editor was a feature documentary HER NAME IS SABINE directed by the acclaimed actress Sandrine Bonnaire. A heartbreaking story about Ms. Bonnaire's sister suffering from a mental handicap premiered and received the International Critics' Award at the 2007 Cannes Film Festival. The initial public and critical recognition was followed by selections in many other major international festivals and a successful theatrical distribution in France and abroad. Ms. Vaynblat is currently working on several projects, including Jean Francois Richet's high budget thriller PUBLIC ENEMY NO. 1.